WatchTower365 Guardian Plus enables the secure use of corporate applications on unmanaged devices – proactively thwarting information-stealing malware and other threats to corporate data. It helps to meet Infosec compliance and provides simple, low-cost deployment and management of endpoint security, wherever and however applications and data are accessed.The Armored Client provides real-time patented protection to applications and data without needing to detect and respond to threats. It does this by using kernel-level prevention of data exfiltration, even if threats exist, combined with the secure wrapping of applications and injected security.
The Armored Client takes a layered approach to protect endpoint devices being used remotely to access your applications and data and to support secure online browsing. Whether your employees are using unmanaged, BYOD, or managed endpoint devices, all your corporate apps are targeted on the endpoint and run in a secure session.
Meets infosec and compliance requirements for data, risk and endpoint management – PCI, FFIEC, HIPAA, GDPR etc.
Easily enables remote working – simple to centrally configure, distribute, manage and support software (and can be bundled with other apps)
Works alongside, and crucially plugs key gaps in all other security software and solutions, including VDI, AV, EDR and VPN.
It could not be simpler to centrally configure, distribute, manage and support Armored Client, giving you the reassurance of instant protection from cyber-attacks across your unmanaged enterprise environment and for your third-party suppliers. As well as helping you to meet your key compliance requirements, you benefit from a tangible CAPEX saving if you have implemented remote working,
 BYOD and BYOPC policies or wish to use the Armored Client to enable such policies. And don't worry about compatibility with existing infrastructure and security products; Armored Browser provides complimentary protection alongside standard VDI, EDR, VPN and anti-virus solutions. The Armored Client Portal provides you with web-based administration, configuration and deployment and allows you to create feature groups for easy management. Configurations can be applied in order to wrap and inject SentryBay security into selected applications within each user group, and these will be dynamically updated.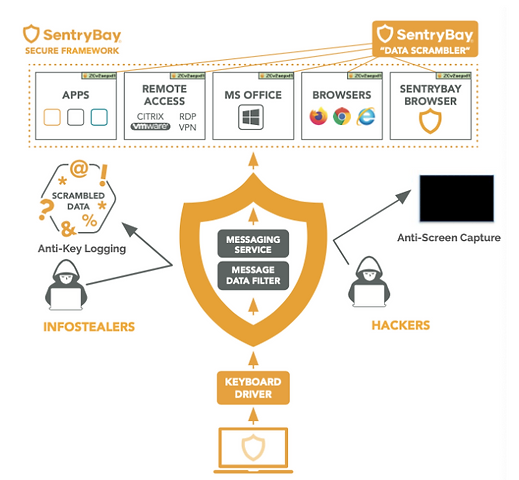 Proactive Endpoint Protection of Applications and Data
PREVENTS zero-day undetected threats 

ACTIVE data protection – kernel-level anti-keylogging / anti-screen capture 

CONFIGURABLE pre-select which applications to protect 

SIMPLE one-time download – simple & transparent to use 

COMPLIMENTS existing AV & EDR 

SIGNIFICANT cost savings – NO locked down hardware required 

SECURE remote access – home working – secure devices anywhere
Key-Logging (including kernel-level) 

Screen Capture

RDP Double-Hop

DLL/Code Hooking Injection 

Code Execution Protection

Man in the Browser & Man in The Middle

DNS Attacks and many more threats…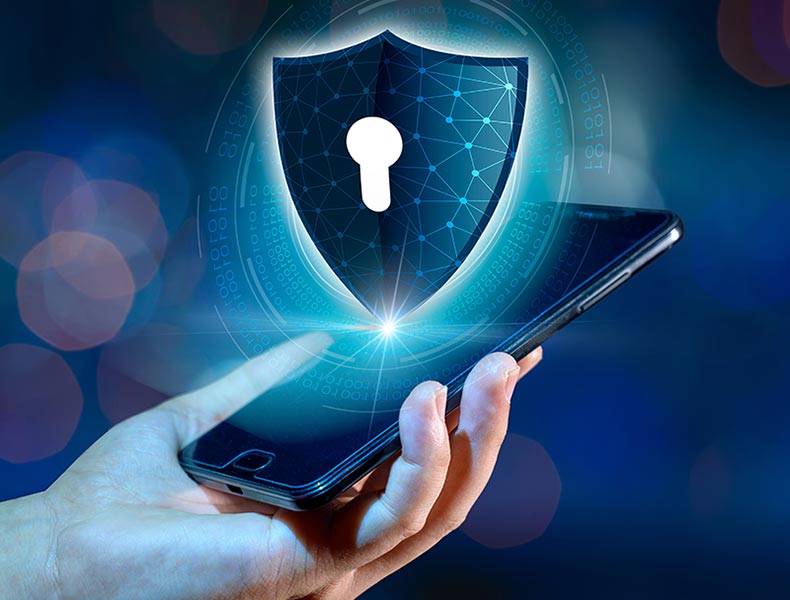 Real-time protection of ALL data entry into VMware – logon and session activity
Prevents zero day undetected threats exfiltrating data when using VMware on ANY device
Simple One Time Download – easy to install – ease of deployment & enforcement
NO integration required – NO performance impact
Complements existing AV or EDR security solutions – if present
NO 'locked down' hardware required – significant costs savings
Regulatory compliance – GDPR, PCI, PSD2 and more
Mitigate data breaches and potential financial penalties